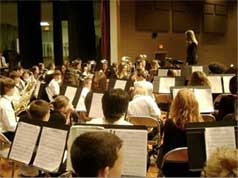 Oswego County Music Educators :
Recognizes the outstanding music educators of our nation through an invitation for membership.
Sponsors convention clinics and roundtable discussions to share ideas and strategies.

Hosts exchange concerts and master classes for students to provide quality educational experiences.

Serves as mentors for new and young teachers.

Sponsors honor bands events and chamber music festivals for young and developing band students.

Publishes curriculum guides and advocacy material based on the latest scientific research on the importance of music education in the development of youth.

Commissions new concert band literature from today's most prestigious composers. Honors the achievements of developing bandmasters through awards and presentations.


Upcoming Events
Due to the COVID-19 pandemic, we will not be hosting festivals this year.
2020 Scholarship Auditions Results:
Auditions were held on Tuesday January 7th at Oswego High School. There were 18 VERY talented performers. After much deliberation our judges decided on 4 students receiving awards.

Congratulations to:
1st: Leah O'Hanlon- $800, 'cello, Fulton
2nd: Kylee Galarneau- $600, voice, C. Square
3rd: Vita Dean- $300, flute, Fulton
3rd: Andrew Smith- $300, violin, Fulton