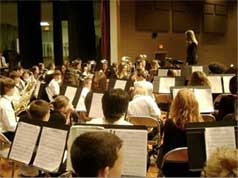 Oswego County Music Educators :
Recognizes the outstanding music educators of our nation through an invitation for membership.
Sponsors convention clinics and roundtable discussions to share ideas and strategies.

Hosts exchange concerts and master classes for students to provide quality educational experiences.

Serves as mentors for new and young teachers.

Sponsors honor bands events and chamber music festivals for young and developing band students.

Publishes curriculum guides and advocacy material based on the latest scientific research on the importance of music education in the development of youth.

Commissions new concert band literature from today's most prestigious composers. Honors the achievements of developing bandmasters through awards and presentations.


Upcoming Events
Here is the 2019-2020 event calendar
SH Area All-State
Friday & Saturday, November 15/16, 2019
Location: Rome Free Academy

JH All-County Auditions
Saturday, November 23, 2019
Location: Mexico Middle School


News
Congratulations to our
2019 Scholarship Winners!
The OCMEA Scholarship auditions were held on January 3rd, 2019 at Oswego High School. There were many talented performers from around the county. The judges did not feel there was a clear ranking but felt five of the performers were equally deserving of an award. Each scholarship winner will receive a $400 scholarship.
Congratulations to:
Andrew Bornheimer, Voice-Oswego
Victoria Harriger, String Bass-Mexico
Gillian Julien, Flute- Central Square
Nova Kowalski, Voice- APW
Keegan Thompson, Clarinet- Oswego